Welcome back with a new www.you-yoga.net blog article on yoga facilities in Portugal. Today we are going to discover which yoga schools are in Braga, a renowned Portuguese city located in the far north of the country, almost on the border with Spain. Not far from Porto, the city of Braga is known for its religious events and heritage. Should you be in Braga for work or study purposes, continue reading this post and you will find a list of yoga schools in and around Braga.
Alternatively, should you wish to practice yoga from any location of your choice, all you have to do is take advantage of the live yoga classes promotions offered by you Yoga. For any information or to try a trial lesson, all you have to do is contact me at: info@you-yoga.net
Below I will list the yoga schools in Braga offering you: name, address, city map to identify the most practical neighbourhood or area for your needs.

Selection of yoga schools in Braga
Here you will find the selection, updated to August 2022, of yoga schools in Braga and surrounding areas. For any additional information on the services they offer, you can contact the activity mentioned below directly.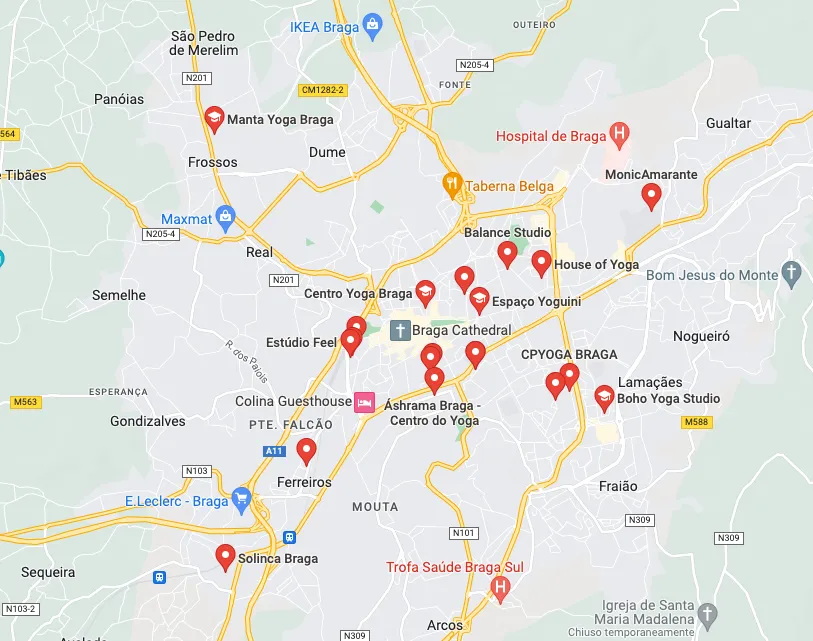 House of Yoga –R. Dr. João Antunes Guimarães 25 loja, 4710-381 Braga, Portugal
Ashrama Braga – R. do Fujacal 80, 4705-097 Braga, Portugal
Yoga Braga – Av. João XXI nº 667 RC, 4715-035 Braga, Portugal
Gratitude – Arte do yoga – R. Dr. Francisco Machado Owen n.220 r/c, 4715-021 Braga, Portugal
Centro Yoga Braga – R. dos Chãos 77 2º andar, 4715-230 Braga, Portugal
Manta Yoga Braga – R. Q.ta da Goja 4700, 4700-150 Braga, Portugal
CPYoga Braga – R. José António Cruz 104, 4715-343 Braga, Portugal
Estudio Oh My Mind – EDIFICIO MURALHA, R. Marcelino Sá Pires 15 sala 25, 4700-924 Braga, Portugal
Joana Rainha – R. Marcelino Sá Pires nº15 2º Andar, Sala 25, 4700-924 Braga, Portugal
Boho Yoga Studio – Praceta Sebastião Alba 27, 4715-282 Braga, Portugal
Espaco Yoguini – Largo Sra. A. Branca, 4710-439 Braga, Portugal
Conclusions
Hoping I have answered your questions about yoga schools in Braga and surrounding areas, I recommend you take a look at the online class calendar and don't miss the free trial starting next September.
For any information about classes on zoom I am always available, all you have to do is visit the contact page of the website or write to me at the following email: info@you-yoga.net
I recommend you follow my Youtube Channel: You Yoga where you will find recorded lessons and future updates in the near future.
See you next time with blog news!