Your
personal
yoga teacher
Your
personal
yoga teacher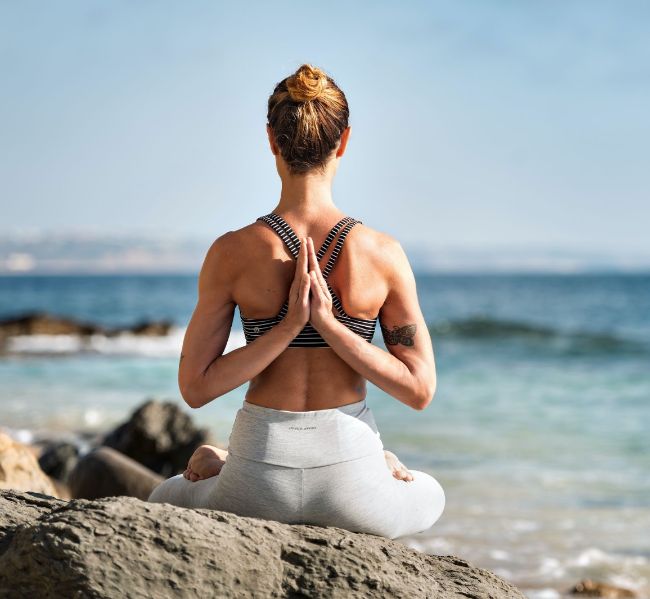 My name is Chiara, I have been teaching yoga since 2014, I have a yoga school in Italy and Portugal. Follow me to find out how to live better with yoga.
I teach in the studio, online and organize workshops for students from all over the world.
Yoga that suit everyone
More than 10 years experience
Support and motivation
My training path started from the dance and the love for the body and movement that this discipline has taught me.
I approached yoga in 2007, starting to practice Hatha Yoga with the Jyotim method, which I still do. In 2017 I obtained my yoga teacher certification after a 4-year course at Yoga Kanda under the teaching of "the grand master teacher" Renato Turla.
Online classes for all levels: groups and private zoom classes.
Improve your practice and live better
Live yoga classes via Zoom are the best way to fully immerse yourself in the yoga practice, without making the typical learning mistakes, as I will always be there with you. My job will be to correct your mistakes, stimulate you during the classes and offer useful practical advice aimed at helping you progress as quickly as possible.
Live yoga classes via Zoom are aimed at people with or without experience who have the desire to try something new, as yoga is for everyone! Anyone can begin to take their first steps in this fascinating and effective discipline with an experienced teacher who will provide the necessary support and guidance over time.
Each live class will have a specific theme in order to broaden your general knowledge. We will have for example:
technical classes where we will look at each pose in detail;
dynamic classes where we will move more freely to the rhythm of our breath;
classes aimed at capturing other aspects of yoga practice such as breath, asana and relaxation.
These classes are designed for those who have never practiced yoga and for those who have some basic knowledge.
A gentle practice to improve flexibility and start strengthening the whole body to feel better.
Improve your practice and stimulate your body to change!
These classes are designed for those who already have a knowledge of yoga, but above all to take a step forward.
Short lessons aimed at perfecting the knowledge of the various positions, entering into a more refined and studied knowledge in detail.
Get rid of bad habits, learn to align your body correctly to progress and improve muscles, elasticity and strength.
Get update and special offer
from You Yoga
Join my Zoom Online Classes where we can practice yoga together.
Depending on who you are, what you do for living, and your time availability I can understand which is kind of yoga that suits better your needs.
I can be your teacher and your motivation to reach the results you have always dreamt.
My classes are best for increasing flexibility, improving muscle tone, working on core and breath. For beginners and advanced students.
Train wherever you want with me
If your goal is to really improve your practice and take a course focused on what you need most, you can choose to have a teacher just for you.
One-hour lessons where it's you and the teacher, with no more doubts or uncertainties.
A one-hour lesson where you will be you, with no more doubts or uncertainties.
Practice yoga with other people who will be connected with you to share the same practice experience.
You will be supported by your teacher, who will correct your mistakes, and at the end of the class you will be able to compare notes with your fellow students.
Each class is streamed on Zoom, lasts 1 hour and takes place once a week.
Beautiful and inspirational words from my students
I've been practicing yoga with Chiara for a year now and have done so in different modes – group classes, individual classes, online classes.

Her genuine interest in a student, her presence in the here-and-now, the precision with which she practices and teaches yoga, her enormous capacity to safely guide you through what your body and mind are currently capable of and at the same time challenging you to go a step further is what has led me to physical, mental, and spiritual progress I've never experienced before.

She is a master of having a group class and at the same time working almost individually with each one. She is always available for answering questions and additional explanations. With her, I've found my master.
Maja De Brito
Student
Chiara è una maestra fantastica perché riesce a trasmettere tutto questo con grande passione, rendendo semplici le cose che sembrano impossibili, utilizzando dolcezza, ironia e uno splendido sorriso.

Una professionista che insegna con amore, impegno e allegria. Riesce a farti ottenere risultati incredibili facendoti sempre rispettare il tuo corpo e i tuoi limiti, tutto questo con un approccio solare, positivo e professionale.
Giulia Fregola
Student
I very much enjoy your yoga classes (in person or over internet) because I can strengthen my body, become more flexible which helps my surfing.

At the same time, I am able to relax my mind, and become calmer which I really appreciate after full day of business meetings
Hana Černecká
Student
J'ai rencontré Chiara lors d'un séjour surf et yoga au Portugal.

Elle a été un rayon de soleil pendant ce séjour et j'ai vraiment senti une évolution dans ma pratique quotidienne grâce à elle.

J'ai apprécié son sérieux et sa disponibilité. Elle a un œil de lynx pour tout de suite corriger ses élèves dans les postures et sait trouver les bons mots.

Encore merci pour tout Chiara et hâte de te retrouver à nouveau en cours.
Florence Pispisa
Student
Depending on your need I will try to develop the best path for your health and happiness