Real Students. Real Stories.
I've been practicing yoga with Chiara for a year now and have done so in different modes – group classes, individual classes, online classes.
Her genuine interest in a student, her presence in the here-and-now, the precision with which she practices and teaches yoga, her enormous capacity to safely guide you through what your body and mind are currently capable of and at the same time challenging you to go a step further is what has led me to physical, mental, and spiritual progress I've never experienced before.
She is a master of having a group class and at the same time working almost individually with each one. She is always available for answering questions and additional explanations. With her, I've found my master.
J'ai rencontré Chiara lors d'un séjour surf et yoga au Portugal.
Elle a été un rayon de soleil pendant ce séjour et j'ai vraiment senti une évolution dans ma pratique quotidienne grâce à elle.
J'ai apprécié son sérieux et sa disponibilité.
Elle a un œil de lynx pour tout de suite corriger ses élèves dans les postures et sait trouver les bons mots.
Encore merci pour tout Chiara et hâte de te retrouver à nouveau en cours.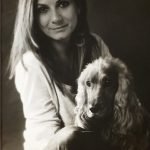 Chiara is a fantastic teacher because she manages to convey all this with great passion, making things that seem impossible simple, using sweetness, irony and a wonderful smile.
A professional who teaches with love, commitment and joy. She manages to get you incredible results by always making you respect your body and your limits, all this with a sunny, positive and professional approach.
I very much enjoy your yoga classes (in person or over internet) because I can strengthen my body, become more flexible which helps my surfing.

At the same time, I am able to relax my mind, and become calmer which I really appreciate after full day of business meetings
i approached yoga because of back problems and was fortunate enough to meet Chiara with whom I was immediately comfortable. I am an extremely rigid person, and constant practice helps me to be more elastic and flexible.
It is very difficult for me to do any exercise, but if there is one thing I am determined on, it is to keep practicing.
In addition, Chiara manages to create a nice atmosphere during class because of her competence and calmness, and she is always available for any need.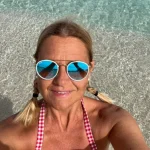 Chiara is a special teacher, professional and very knowledgeable. She teaches yoga with love and passion. She is always attentive to her students; she manages to guide you and put you in confidence with your body, fully respecting your limits with kindness and patience.
Always available for clarification and further explanation.
I am so happy with my teacher, I could not have had a better teacher!
Chiara is a very skilled and careful Yoga teacher. Her soft but firm voice accompanies my practice on the internet or in person.
I have been following her for years because she is well-being for my body and for my mind.