Welcome back with a new blog article from www.you-yoga.net on yoga facilities in Portugal. Today we are going to discover which yoga schools are in Nazarè, the European paradise of giant waves. The Portuguese tourist resort that has become famous for its giant waves also offers beautiful sea areas where you can surf and relax. Therefore, we could not miss the yoga schools, which are particularly popular during the summer period among tourists and city residents. Obviously, we will follow the same style as the previous articles, including the one dedicated to yoga schools in Ericeira, which we recommend you follow to stay up-to-date on the options offered by the main resorts in Portugal.
Alternatively, should you wish to practise yoga from any location of your choice, all you have to do is take advantage of the promotions for online yoga classes offered by you Yoga. For any information or to try a trial lesson, all you have to do is contact me at: info@you-yoga.net
Below I will list the yoga schools in Nazaré offering you: name, address, city map to identify the most practical neighbourhood or area for your needs.
Don't miss the 'Online Yoga Lessons on Zoom' Promo

Selezione delle scuole di Yoga a Nazarè
Here you will find the selection, updated to August 2022, of yoga schools in Nazarè and surrounding areas. For any additional information on the services they offer, you can contact the activity mentioned below directly.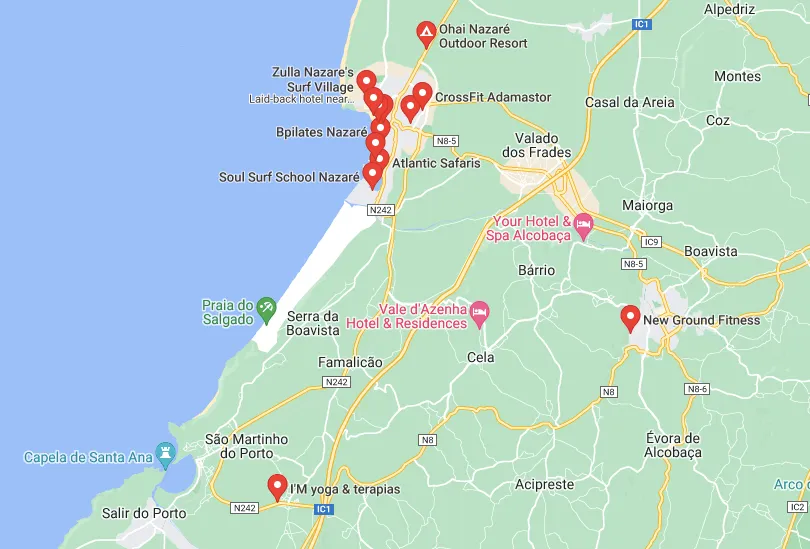 Nazaré Oasis Yoga & Massage –

R. do Monte 22, 2450-060 Nazaré

Centro de Reconexao Holistica –

Shopping Subvila, R. Sub-Vila 12 2 andar, 2450-267 Nazaré

Yoga Leiria – Centro do Yoga–

R. Pero Alvito n.º 23 Lj1, 2400-208 Leiria

Yoga de Leira –

R. Frei Brás de Barros 12, Leiria

Ponto Sereno –

Galerias Beira Rio, 1º Lj. 30, R. Anzebino Cruz Saraiva, 2415-371, Leiria

Talasso Nazarè –

Av. Manuel Remígio, 2450-106 Nazaré,

Yoga Caldas da Rainha –

R. Henrique Sales 36, 2500-250 Caldas da Rainha,

OY! Only Yoga – ACRM Campo do Outeiro, 2405-026,
Vikram Yoga –

R. de Ilhavo, 3830-752 Gafanha da Nazaré

I'M yoga & terapias –

R. do Castelo 7c, 2460-122 Alfeizerão,

New Ground Fitness –

R. da Fonte Nova 40, 2460-028 Alcobaça
Conclusions
Hoping to have answered your questions regarding Yoga schools in Nazaré and surrounding areas, I suggest you take a look at the online class calendar and do not miss the free trial starting next September.
For any information about classes on zoom I am always available, all you have to do is visit the contact page of the website or write to me at the following email: info@you-yoga.net
I recommend you follow my Youtube Channel: You Yoga where you will find recorded lessons and future updates in the near future.
See you next time with blog news!