Here we are with a new blog article from www.you-yoga.net about yoga facilities in Portugal. Today we are going to find out what yoga schools are in Ericeira, a popular Portuguese tourist resort so famous for its waves and cool lifestyle. We will follow the same style used to describe the yoga schools in Peniche, a reference point throughout the summer season where I teach yoga live as well as online via the Zoom platform. For any information or to try a trial class, all you have to do is contact me at: info@you-yoga.net
Below I am going to list the yoga schools in Ericeira offering you: name, address, city map to identify the most practical neighborhood or area for your needs.

Selection of Yoga Schools in Ericeira
Here you will find a selection, updated to August 2022, of yoga schools in and around Ericeira. For any additional information about the services they offer, you can contact the activity mentioned below directly.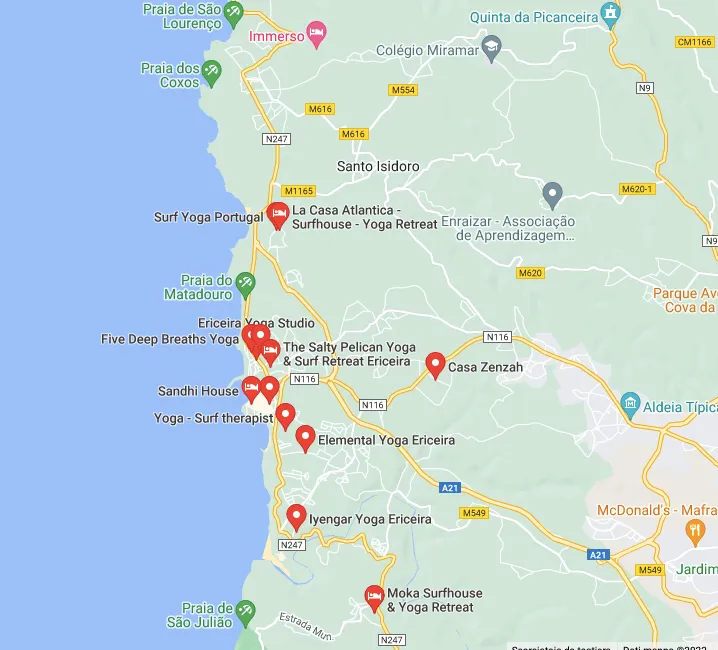 Ericeira Yoga Studio – 

R. de São Félix 12G, 2655-362 Ericeira

Five Deep Breaths Yoga – 

Av. São Sebastião 36a, 2655-319 Ericeira

Espaco Yoga vy Maphalda Sophia – 

R. dos Pocinhos 6d, 2655-333 Ericeira

The Salty Pelican Yoga & Retreat – 

Tv. dos Moinhos 10, 2655-315 Ericeira

Yoga – Surf Therapist / massages – 

house C center to the vila, R. Francisco Lopes Franco n°20, 2655-287 Ericeira

Olive3 Yoga Retreat Center – 

Largo da Fonte do Cabo nº3, 2655-284 Ericeira

Elemental Yoga Ericeira – 

R. das Lombas 26, 2655-431 Ericeira

Iyengar Yoga Ericeira – 

Foz do Lizandro, R. das Curveiras, 2655-077 Carvoeira

108 Yoga Retreat – 

R. Principal 5, 2640-206 Encarnação
Conclusions
Hoping to have answered your questions regarding Yoga schools in Ericeira, I suggest you take a look at the online class calendar and don't miss the free trial starting next September.
For any information regarding classes on zoom I am always available, all you have to do is visit the contact page of the website or write me at the following email: info@you-yoga.net
I recommend that you follow my Youtube Channel You Yoga where you will find recorded classes and future updates in the near future.
See you next time with blog news!